---
I am nearly falling asleep at my computer at 9 pm as I type this. I guess that's what two workouts and a sugar rush will do to a girl. Also, I love my sleep and am 99% certain that my grandpa goes to bed at least 3 hours later than me on most nights.
But I have to hold it together long enough to tell you about these chocolate coconut butter cups. They are the direct result of a little Amazon shopping spree I went on recently. I bought these adorable silicone cupcake liners!
I had to make something fun with them, and was none too eager to get back on the cupcake train after the cupcake-filled month that was March. So I skipped all that cakey stuff and went straight for the chocolate.
As it turns out, you can totally make these with paper liners, too.
I was skeptical that the paper would make those same sharp creases in the chocolate, but they definitely did. My silicone cupcake liners made me happy, though… no regrets on that purchase.
Also, I take really good care of my things, as evidenced by this tray. I'm sure my shiny blue cupcake liners will be about the color of that tray soon.
Aaaanyway, I'm totally in love with coconut butter lately, and that's what inspired these guys. If you are a coconut fiend, you'll love them! The only problem is that these put a serious dent in my jar of coconut butter, and I am now OUT. Sound the alarm! I need some more this weekend… I think I'll try making my own. Have you made it before, and has it turned out well?
OK, enough about the coconut. Let's talk about the chocolate: You can use any kind you'd like. I used semi-sweet chocolate chips, but I'll probably try dark chocolate next time. Because if there's anything I love even MORE than coconut, it's gotta be dark chocolate.
These coconut butter cups seem pretty impressive, but they couldn't be quicker or easier to make. No baking required – just a couple minutes in the fridge or freezer is all they need. Keep them around for a nice little dessert when friends come over!
Enjoy your weekend!
Chocolate Coconut Butter Cups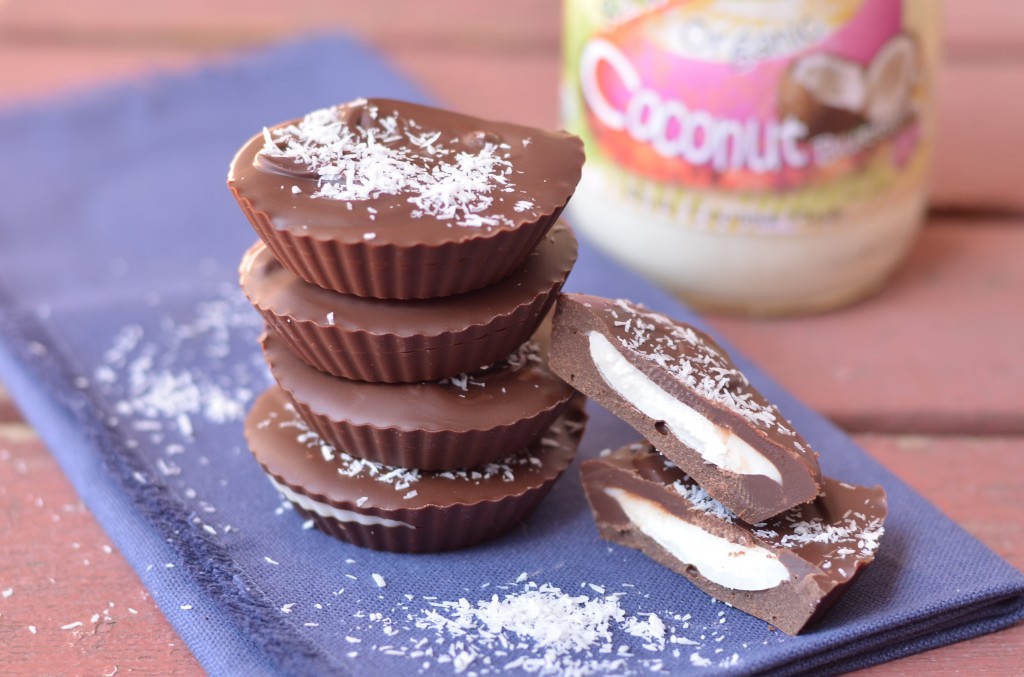 Print
These homemade coconut butter cups look and taste impressive, but couldn't be quicker or easier to put together. No baking required!
Author:
Yields: 12 (1 cup each)
Ingredients
1 10-oz bag chocolate chips (I used semi-sweet)
1 Tbsp coconut oil
1/2 cup coconut butter
shredded coconut for garnish (optional)
Instructions
Set 12 cupcake liners on a plate or tray, and clear a space in your freezer. (You could use mini cupcake liners too! I haven't tried it, so I'm not sure how many it would make.)
Microwave chocolate chips and coconut oil in 30-second increments until melted, stirring in between. Spoon 1 tablespoon of the chocolate into the bottom of each cupcake liner.
The next step depends on the consistency of your coconut butter. You don't want it brittle (like mine was in the jar), but you also don't want it soupy, or it will run together with the chocolate. Microwave until softened but not liquid. About 10-20 seconds did it for me.
Spoon 1 tablespoon of the coconut butter into each cup. Top with another tablespoon of chocolate, making sure the coconut is completely covered. You may want to jiggle them back and forth to smooth out the chocolate.
Sprinkle with shredded coconut, if desired. Place in the freezer for about 5 minutes to harden up. They can be enjoyed immediately, or stored in the fridge for later.
Enjoy!
Notes
Adapted from Edible Perspective.